Best Decor from The Home Depot
3 min read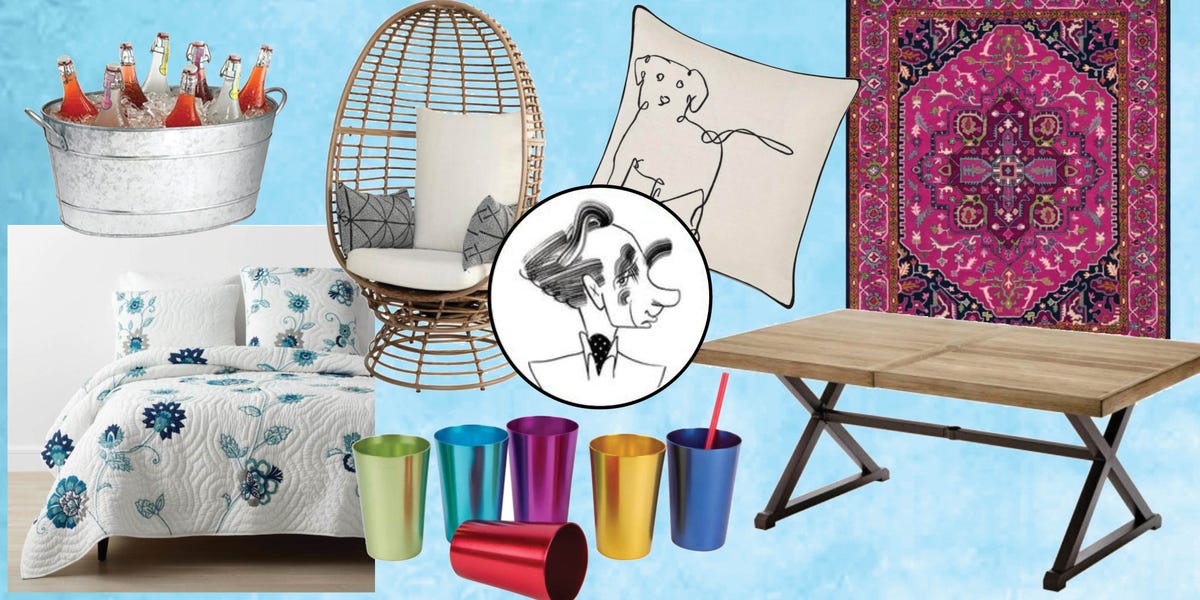 The Home Depot, your go-to store for home improvement and DIY supplies, is also home to an assortment of great furniture, home decor, and outdoor entertaining essentials. We're talking a LOT of different items: Need a new desk? New furniture for a nursery? Even storage baskets, throw blankets, wall clocks, and candles are a part of their inventory. (Don't even get us started on their incredible selection of faux and real plants! An actual treasure trove.) And tons of this great stuff is available online, so you don't even have to drive to the store to start shopping. Intrigued? House Beautiful's Style Director, Robert Rufino, has picked some of his favorite pieces from their collection, all of which would be easy to incorporate into any home.
19-Piece Grilling Tool Kit
Chef Buddy
homedepot.com
$31.05
A must-have set for barbequing! The case makes this set so chic. 
Lisbon Twilight Blue and Mustard Yellow Salad Plate Set
Home Decorators Collection
homedepot.com
$29.98
These plates can make any table come alive, both indoor and outdoor.
Kettle Charcoal Grill
Weber
homedepot.com
$165.00
For those living in small spaces who still want to enjoy the flavors of barbequing, this classic compact grill is the one for you! 
Outdoor Dining Table with Farmhouse Trestle Base
Hampton Bay
homedepot.com
$239.00
Although this table is technically for the outdoors, the style is so versatile and can also be used as an indoor dining table as well. 
Galvanized Gray Beverage Tub
Benzara
homedepot.com
$41.16
A cool tub to keep your drinks cooler!
Outdoor Patio Egg Lounge Chair
Hampton Bay
homedepot.com
$349.00
This is such a fun shape for a lounge chair. My perfect day would be cozying up in this chair, spending the day reading a great novel. 
Folding Eucalyptus Outdoor Dining Chair (2-Pack)
Outdoor Interiors
homedepot.com
$179.99
These beautiful folding chairs offer a welcoming seat to anyone at the table.
Retro Aluminum Tumblers
Trademark Innovations
homedepot.com
$21.53
Once the weather gets warmer, these tumblers are the perfect cups for outdoor entertaining.
Gatefield Chrome Kitchen Cart
StyleWell
homedepot.com
$79.82
The ultimate cart for organizing things for everyday living. Have it be your go-to stop for all of your most-used kitchen supplies! Or turn it into an instant outdoor bar cart with one shelf to hold your wine bottles and the other for holding glasses.
Farmhouse Black Metal Bed Frame
StyleWell
homedepot.com
$286.35
Such a chic finish on this bed frame. 
Doodle Dog Embroidered Throw Pillow
ED-Ellen DeGeneres
homedepot.com
$26.99
How can I resist this adorable pillow? What can I say, I'm a dog person. 
Julienne Multicolored Floral Cotton Quilt
The Company Store
homedepot.com
$383.20
This cotton quilt will provide the perfect breathability while still adding warmth throughout the spring season.
Aqua Sea Glass Table Lamp
Elegant Designs
homedepot.com
$49.99
This lamp reminds me of the seaside and my summer days in Cape Cod. It would add a nautical element to any room.
Bellagio Pink and Navy Area Rug
Safavieh
homedepot.com
$372.40
This area rug is so vibrant in its color and pattern! It'll add a unique touch to any bedroom.
Want more design inspo? Become a House Beautiful: All Access member now!
This content is created and maintained by a third party, and imported onto this page to help users provide their email addresses. You may be able to find more information about this and similar content at piano.io